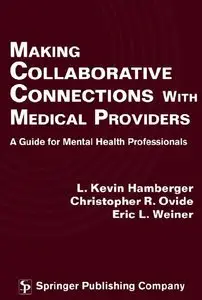 Making Collaborative Connections with Medical Providers: A Guide for Mental Health Professionals
Publisher: Springer Publishing Company | ISBN: 0826112587 | edition 2008 | PDF | 156 pages | 7,1 mb
This book provides detailed, concrete, and practical information on successful collaborations between physicians and mental health service providers. The authors draw on their experience in working with physicians on referrals in a variety of clinical settings and specialties. Mental health professionals will find important basic skills such as how to present their credentials to medical providers; negotiate through the referral process; follow through after a referral; and report back to physicians on cases. Here is a guidebook for clinical psychologists, family therapists, social workers and others who want to establish more effective collaborations with medical colleagues.
http://www.megaupload.com/?d=WIXFNSK1