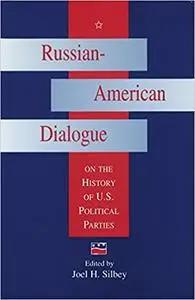 Joel H. Silbey, "Russian-American Dialogue on the History of U.S. Political Parties (Volume 1)"
English | 2000 | ISBN: 082621276X | PDF | pages: 292 | 1.6 mb
Russian-American Dialogue on the History of U.S. Political Parties is the fourth volume in the Russian-American Dialogues series—a series that brings together scholars in the former Soviet Union and the United States who share an interest in the study of America's heritage and its importance to contemporary Russia.
In this valuable work, Russian scholars such as N. V. Sivachev, Alexander S. Manykin, and Vladimir V. Sogrin examine the history of American political parties and the role they played across two centuries. The Russians draw their own conclusions about the durability of the two-party system, giving careful consideration to historical crises—the secessionist movement and the Civil War, the reform era of the Populists and Progressives at the turn of the twentieth century, the Great Depression and the New Deal—in which the two-party structure was tested. Russian perspectives are also applied in analyzing the evolution of particular parties, from the rise and fall of the nineteenth-century Whigs to the shifting balance between twentieth-century Democrats and Republicans. The dialogue is then developed through commentaries by American historians such as Allan G. Bogue and Theodore J. Lowi and through counter-responses, often strongly expressed, by the Russian authors.
This lively exchange of ideas helps advance an understanding of key aspects of American party history and offers thought-provoking discussions of comparative international studies and historiography. Because the book provides unique perspectives on the American partisan experience by non-American specialists, it will be welcomed by all historians, as well as by anyone with an interest in the American-Russian connection.