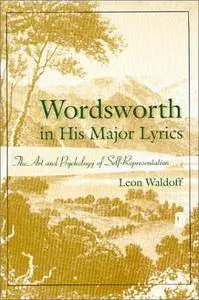 Wordsworth in His Major Lyrics: The Art and Psychology of Self-Representation by Leon Waldoff
English | 2001 | ISBN: 0826213294 | 192 Pages | PDF | 811.47 KB
Wordsworth in His Major Lyrics explores the identity, role, and subjectivity of the speaker in Wordsworth's finest and best-known longer lyrics—"Tintern Abbey," "Resolution and Independence," "Ode: Intimations of Immortality," and "Elegiac Stanzas." Because Wordsworth is the most autobiographical poet of the Romantic period, and perhaps in the English language, readers naturally take the speaker to be the poet himself or, as Wordsworth says in his prefaces and essays, "the poet in his own person."
Some readers allow for a fictional dimension in the characterization of the speaker and refer to him as a persona; others treat him as a biographical self, defined in literary, political, historical, or cultural terms. Leon Waldoff examines the critical issues posed by these different understandings of the speaker's identity and argues for a conception of Wordsworth's lyrical "I" that deals with the dramatic and psychological complexities of the speaker's act of self-representation.
Taking concepts from Freud and Winnicott, this book presents a psychoanalytic model for defining the speaker and conceptualizing his subjectivity. Waldoff suggests that the lyrical "I" in each poem is a transitional self of the poet. The poem offers, in the suspended moment and cultural space of lyrical form, a self-dramatization in which the speaker attempts to act out, in the sense of both performing and attempting to achieve, a reconstitution and transformation of the self.
In a series of close readings that provide formalistic and psychological analysis, the book shows that the major lyrics contain compelling evidence that Wordsworth devoted much of his poetic art to each speaker's act of self-dramatization. The various strategies that each speaker employs and the self- dramatizing character of his utterance are theorized and assimilated into an understanding of the subjectivity he represents.
Waldoff concludes that Wordsworth's lyrical "I" requires a conception of subjectivity that gives greater recognition to its individual, psychological dimensions and to the art of self-representation in each poem than recent Wordsworth criticism has provided. This important new work will be appreciated by anyone interested in Wordsworth or in Romantic poetry.