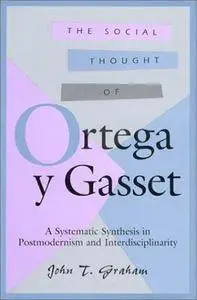 The Social Thought of Ortega y Gasset: A Systematic Synthesis in Postmodernism and Interdisciplinarity (The Third Volume in a Series of Comprehensive Studies on the Thought of Ortega Y Gasset) by John T. Graham
English | 2001 | ISBN: 0826213537 | 568 Pages | PDF | 2.61 MB
The Social Thought of Ortega y Gasset is the third and final volume of John T. Graham's massive investigation of the thought of Ortega, the renowned twentieth-century Spanish essayist and philosopher. This volume concludes the synthetic trilogy on Ortega's thought as a whole, after previous studies of his philosophy of life and his theory of history.
As the last thing on which he labored, Ortega's social theory completed what he called a "system of life" in three dimensions—a unity in the plurality of philosophy, history, and sociology as three fundamental disciplines that enter into and overlap each other and other humanities. In this volume, Graham investigates Ortega's social thought as expressed in his central work, Man and People, and in several pragmatic fields (politics, culture, education, and religion), interpreting it all in terms of comprehensive categories of postmodernism and interdisciplinarity. While others have studied Ortega's social thought and recently his postmodernity, no one has done so in the context of his thought as a whole or by such a variety of methods.
The "unity in plurality" of Ortega's system is evident in the broad and varied structure of his sociology, which he intended to serve for postmodern times. His own postmodernism was rooted in Nietzsche but also in the pragmatism—from James, Peirce, and Dewey—that informs all parts of this trilogy.
Ortega was the first educator with an interdisciplinary theory and practice—another aspect of the "unity in plurality" of his system. He found inspiration in both ancient and modern precedents for what he saw as a postmodern method of investigating themes and problems that are common to all the human sciences. Innovations at his Institute of Humanities were early postmodern precedents for a new interdisciplinary social method for use by specialists in a variety of fields. All of those interested in Ortega can utilize such methods to elucidate his thought as a whole as well as to pursue their own collaborative work.