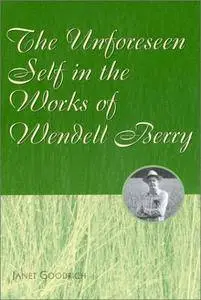 The Unforeseen Self in the Works of Wendell Berry by Janet Goodrich
English | 2001 | ISBN: 0826213677 | 184 Pages | PDF | 810.21 KB
In this fresh approach to Wendell Berry's entire literary canon, Janet Goodrich argues that Berry writes primarily as an autobiographer and as such belongs to the tradition of autobiography. Goodrich maintains that whether Berry is writing poetry, fiction, or prose, he is imagining and re- imagining his own life from multiple perspectives—temporal as well as imaginative.
Through the different vocations that compose his being, Berry imaginatively shapes his experience into literary artifice. Goodrich identifies five of these vocations—the autobiographer, the poet, the farmer, the prophet, and the neighbor—and traces them in the body of Berry's work where they are consistently identifiable in the authorial voice and obvious to the imagination in fictive characterizations. Berry's writings express these "personae" as they develop, and it is this complexity of perspective that helps to make Berry vital to such a range of readers as he writes and rewrites his experience.
Goodrich's book is organized thematically into five chapters, each examining one of Berry's imaginative voices. Within each chapter, she has proceeded chronologically through Berry's work in order to trace the development in each point of view. By acknowledging the relationships between these different themes and patterns of language in the texts, Goodrich avoids reducing Berry as she helps the reader appreciate the richness with which he writes his life into art.
Whereas others have categorized Berry according to just one of his many facets, The Unforeseen Self in the Works of Wendell Berry takes account of his work in all its complexity, providing a coherent critical context and method of study. Reconciling the sometimes contradictory labels pinned on Berry, this vital study of his poems, stories, and essays from 1957 to 2000 offers an enriching and much needed new perspective for Berry's growing, diverse readership.