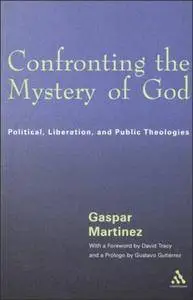 Confronting the Mystery of God: Political, Liberation, and Public Theologies by Gaspar Martinez
English | 2000 | ISBN: 0826412394 | 332 Pages | PDF | 22.66 MB
This fascinating work of theological scholarship offers an exceptionally broad scope and powerful unifying theme. Gaspar Martinez offers penetrating interpretations of three major contemporary, theologians working on three continents, in quite dissimilar historical, cultural, social, and economic situations. He goes on to illustrate how Johannes Metz, Gustavo Gutierrez, and David Tracy each had a "tensive ongoing relationship" to the mid-twentieth century theologians and movements that formed them -- Karl Rahner, nouvelle theologie, and Bernard Lonergan, respectively.
Martinez brilliantly contextualizes each of these thinkers. In broad strokes, he sketches postwar Germany, postcolonial Peru, and the "American century", and shows how each man was formed by his era. He also examines the lines of influence and relationship between these theologians and some of their "nontheological" contemporaries. Metz and Adorno, Bloch, and Benjamin; Gutierrez and Paulo Freire, Jose Carlos Mariategui, and the novelist Jose Maria Arguedas; and Tracy and thinkers from Eliade and Ricoeur to Gadamer and Derrida.
Martinez convincingly illustrates how each of these theologians in recent years has focused more directly on the mystery of God, entailing greater emphasis on spirituality and mysticism, with the consequence that the more properly theological their theologies have become the more they have become negative theologies.