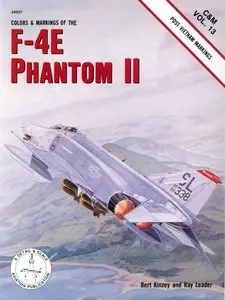 Colors and Markings of the F-4E Phantom II. Post Vietnam Markings (Colors & Markings Vol. 13) By Bert Kinzey, Ray Leader
Publisher: TABs Books 1989 | 64 Pages | ISBN: 0830685375 | PDF | 22 MB
Unlike most aviation "picture books," the Colors & Markings Series strives to be as complete a pictorial record of the subject as is possible. Each unit that has flown the aircraft during the stated time frame is included, and different schemes and variations of markings for each unit are illustrated starting with the oldest and con­tinuing to the newest scheme as of press time for the book. We believe that this approach is far more worth­while and valuable than a picture book that is merely a collection of pretty photographs having a hit-or-miss coverage of units, schemes, and markings. It would be a simple matter to select two-hundred outstanding photo­graphs of F-4Es and put them in a book.
NO PASSWORD



!!!No Mirrors below, please! Follow Rules!