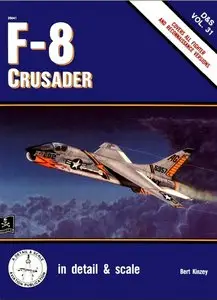 F-8 Crusader: Cover All Fighter and Reconnaissance Versions (Detail & Scale 31) By Bert Kinzey
Publisher: TAB Books Inc 1988 | 74 Pages | ISBN: 0830685413 | PDF | 15 MB
If there was one thing you could count on when it came to carrier-based aviation, it was that any shipboard fighter designed by Chance Vought would have some unusual, if not radical, design feature. Prior to the 1950s. Chance Vought had established itself as one of the more successful producers of aircraft for the U.S. Navy, proba­bly second only to Grumman, and their most successful product had been the famous F4U Corsair that had served well in both World War II and Korea. Many observers considered the F4U as the best propeller driven fighter of World War II. but it had some of those "unusual" features that caused some problems early on. In order to keep the landing gear as short and strong as possible, while allowing room for a propeller of large diameter, the Corsair featured an inverted gull wing. The cockpit was well aft. which made it difficult for a pilot to see where he was going on the ground or on a carrier. In the air the F4U was excellent. Coming aboard carriers, it left a lot to be desired. A small spoiler on the leading edge of the right wing, a redesigned canopy, and a higher seat were some of the fixes that eventually made the Corsair one of the best carrier-based, propeller-driven fighters ever designed. It established Chance Vought's reputation as a successful aircraft manufacturer.
NO PASSWORD



!!!No Mirrors below, please! Follow Rules!