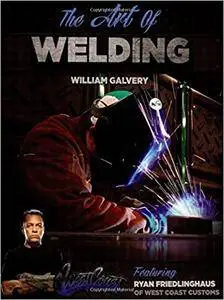 Ryan Friendlinghaus, William L. Galvery, "The Art of Welding"
English | ISBN: 0831134755 | 2013 | 250 pages | PDF | 86 MB
This unique and original book improves upon the weaknesses of the competition by providing complete, in-depth coverage of the equipment and techniques used in the most popular welding processes: oxyacetylene, stick welding, MIG welding and TIG welding. What's more, it presents information in a lively, easy-to-follow design. Welding plays a role in a number of industrial applications. But do-it-yourselfers and hobbyist also use welding to make repairs and build projects. Unfortunately, welding is an evolving science, and the term welding encompasses a number of different processes-from gas welding to more sophisticated electrical arc welding procedures. Each process requires specific equipment, works on specific metals and has its own welding techniques. Welding 101 sorts out this complexity to provide the novice with an easy-to-understand guide. Covering oxyacetylene welding, stick welding, MIG and TIG welding in separate chapters, Welding 101 takes a close look at each process. Each chapter contains the pros and cons of each process and information on equipment, setup, materials, safety and welding techniques. To provide a solid footing for the novice welder, there is a chapter that provides an overview of welding and another on tools and materials. Although the bulk of the book is devoted to the more popular welding techniques, the authors also provide a chapter on soldering and brazing and another on plasma cutting.