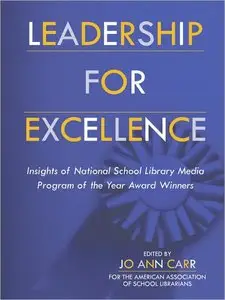 Jo Ann Carr "Leadership for Excellence"
ALA Editions | English | 2009-01-30 | ISBN: 0838909612 | 132 pages | PDF | 1,1 MB
How do the most successful school library media specialists play a leading role in student achievement in their schools? Jo Ann Carr and AASL share behind-the-scenes details and best practices, including how and why top programs succeed, get funding, and become integral contributors in their school communities.Addressing the importance of school library media specialists as instructional leaders and collaborators in diverse roles, this inspirational resource outlines proven practical strategies. Those who have achieved success provide insights for building partnerships for learning, all centered on developing the leadership skills of school library media specialists in: learning and teaching; information access and delivery; program administration; and, future vision.Highlighting exemplary school library media centers, this collection of case histories and reflections from leaders of award-winning programs examines what works and why. Learn how winners integrate their programs into the school curriculum and drive excellence within the learning community. Explore websites of the award winners and review worksheets, fliers, and before-and-after photos to understand the process behind the success.
To start download click HERE: