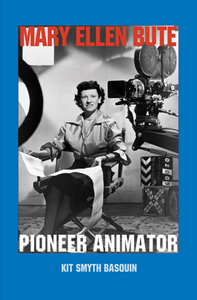 Mary Ellen Bute : Pioneer Animator
by Kit Smyth Basquin
English | 2020 | ISBN: 0861967445 | 177 Pages | PDF | 12.4 MB
Mary Ellen Bute: Pioneer Animator captures the personal and professional life of Mary Ellen Bute (1906–1983) one of the first American filmmakers to create abstract animated films in 1934, also one of the first Americans to use the electronic image of the oscilloscope in films starting in 1949, and the first filmmaker to interpret James Joyce's literature for the screen, Passages from James Joyce's Finnegans Wake, a live-action film for which she won a Cannes Film Festival Prize in 1965.
Bute had an eye for talent and selected many creative people who would go on to be famous. She hired Norman McLaren to hand paint on film for the animation of her Spook Sport, 1939, before he left to head the animation department of the Canadian Film Board. She cast the now famous character actor Christopher Walken at age fourteen as the star of her short live-action film, The Boy Who Saw Through, 1958. Also, Bute enlisted Elliot Kaplan to compose the film score of her Finnegans Wake before he moved on to compose music for TV's Fantasy Island and Ironside.
This biography drawn from interviews with Bute's family, friends, and colleagues, presents the personal and professional life of the filmmaker and her behind-the-scenes process of making animated and live action films.
If you want to support my blog, then you can buy a premium account through any of my files (i.e. on the download page of my book). In this case, I get a percent of sale and can continue to delight you with new books!