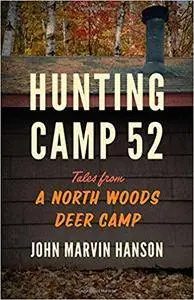 John Marvin Hanson, "Hunting Camp 52: Tales from a North Woods Deer Camp"
ISBN: 0870207733 | 2016 | EPUB | 176 pages | 10 MB
Meet the Jolly Boys—five men from northern Wisconsin who built a deer hunting shack in 1955 and established a tradition that has now lasted over six decades. Hunting Camp 52, affectionately known as Blue Heaven, is a place where every trail, rock, and ravine has its own nickname; every kill is recorded by hand on a window shade; every hunter happily croons along during evening songfests; and every rowdy poker game lasts late into the night. The outhouse is always cold, the porcupines are always a problem, and the vehicles are always getting stuck in the mud, but there's nowhere else these men would rather be.
In Hunting Camp 52: Tales from a North Woods Deer Camp, John Marvin Hanson—the son of one of the original Jolly Boys—recounts the sidesplitting antics, the memorable hunts, and the profound camaraderie that has developed over almost sixty seasons at Blue Heaven. Hanson also includes more than twenty recipes for gourmet comfort foods prepared each year at camp, from pickled venison hearts to Norwegian meatballs to the treasured recipe for Reali Spaghetti. As the Jolly Boys age and younger generations take up the mantle of Blue Heaven, Hanson comes to appreciate that hunting camp is not about bagging a trophy buck as much as it is about spending time with the friends and family members who matter most.