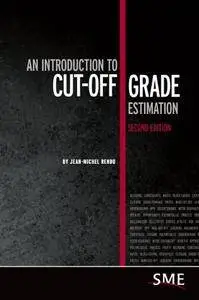 An Introduction to Cut-Off Grade Estimation, Second Edition by Jean-Michel Rendu
English | 2014 | ISBN: 0873353935 | 168 Pages | PDF | 4.29 MB
An Introduction to Cut-off Grade Estimation examines one of the most important calculations in the mining industry. Cut-off grades are essential to determining the economic feasibility and mine life of a project. Profitability and socioeconomic impact of mining operations are influenced by the choice of cut-off grades. Cut-off grades play a key role in estimating mineral reserves that can be publicly reported.
This new edition is easier to read and of greater practical interest to practitioners. The relationship between optimization of net present value, capacity constraints, and opportunity cost is explained in greater detail. A new section discusses blending strategies, which play a critical role in an increasing number of mining operations.
Author Jean-Michel Rendu, an internationally recognized expert in the management, estimation, and public reporting of mineral resources, provides practical insights. As a manager in major mining companies, a consultant, and an educator, Rendu has acquired considerable experience in all aspects of mining engineering, experience that was incorporated into this publication.
This is a must-read for mine managers, analysts, geologists, mining engineers, and public policymakers who want to stay on the leading edge of their profession.