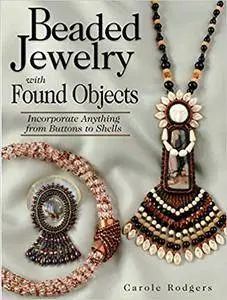 Carole Rodgers, "Beaded Jewelry with Found Objects: Incorporate Anything from Buttons to Shells"
2004 | pages: 125 | ISBN: 0873496841 | PDF | 7,5 mb
With the more than 30 original projects featured in Beaded Jewelry with Found Objects, and the inspiration to create more, readers are able to match designer jewelry?reflective of their impeccable taste?with each outfit they own! Professional designer and self-proclaimed ?Beadaholic,? Carole Rodgers enthusiastically shares a striking new approach to the age-old hobby of beading?transforming easily obtainable household objects into distinctive, one-of-a-kind wearable jewelry designs. Using items that can be found in hardware stores, fishing tackle stores, flea markets, glass items, game pieces, cabochons, and other natural objects, readers of all skill levels will be beading gifts as individual as themselves. Projects, such as the Amethyst Crystal Necklace?made with a pie-shaped slice of amethyst crystal on a chain of amethyst and lavender seed beads, are photographed and accompanied by clear instructions. Basic skills, such as stitches, making neck straps and fringes, and beading around the objects used in the projects, are also explained with detailed, step-by-step instructions.
My Link