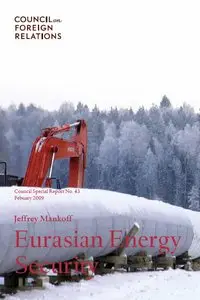 Eurasian Energy Security Council Special Report No. 43 Febuary 2009
Publisher: University | ISBN: 087609423X | edition 2008 | PDF | 233 pages | 6,1 mb
This January brought a stark reminder of the perils of European dependence on Russian natural gas. A cutoff of supplies connected in part to a pricing dispute between Russia and Ukraine, the crucial transit country for much of Russia's gas, left millions of Europeans without heat and forced factories to close. The crisis not only underscored the challenges of managing U.S. and European relations with Russia, a country whose geopolitical reach rises and falls to some extent with the price of oil and gas. It also highlighted the difficulty for America's European allies of breaking their dependence on a single energy supplier, one whose willingness and ability to provide sufficient gas over time is uncertain.