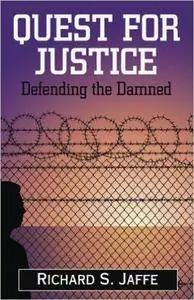 Richard S. Jaffe, "Quest for Justice: Defending the Damned"
2012 | pages: 345 | ISBN: 0882823744 | PDF | 7,1 mb
Spotlighting sensational murder cases as well as his representation of the Olympic and Birmingham bomber, Eric Rudolph, here is the story of Richard Jaffe, the most successful attorney ever at exonerating innocent people accused of murder and wrongfully sentenced death row inmates.
Join Jaffe, a commentator during the O.J. Simpson trials and frequent guest on NPR, CNN and NBC. Follow him as he learns the truth about savage capital crimes, then through tense courtroom trials as he advocates for those who are literally fighting for their lives.
It's a taut, suspenseful journey through crime and the legal process: murder scenes, courtrooms, judges' chambers and prison visiting rooms. Hear how the death penalty is decided and administered. Peer into Jaffe's soul and look into the souls, hearts and eyes of the men and women he has defended and those who opposed him in these battles to the death:
The serial bomber who evaded capture for over five years
The young attorney falsely accused of conspiracy to murder a police detective
The bribe-taking judge who pulled a gun on Jaffe in the courtroom
Quest for Justice offers a no-holds-barred, behind-the-scenes look at America's criminal justice system.
My Links