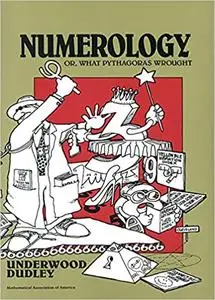 Underwood Dudley, "Numerology: Or, What Pythagoras Wrought "
English | ISBN: 0883855240 | | 324 pages | PDF | 22 MB
Numerology is the delusion that numbers have power over events. It is a descendent of number mysticism, the belief the contemplation of numbers can give mystical and non-rational insights into life, the universe and everything. 2500 years ago, Pythagoras originated number mysticism, crediting certain numbers with characteristics, through numerology, is a more recent invention that allots numbers, hence characteristics, to individuals. Underwood Dudley outlines here the history of number mysticism and numerology and gives many examples, including biorhythyms, Bible-numberists, pyramidologists and a plethora of others. His message is that numbers do indeed have power, but over minds not events. This is the only book that exposes this particular human folly, and requires no mathematical background beyond knowledge of numbers.