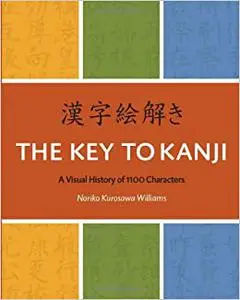 Noriko Kurosawa Williams, "The Key To Kanji: A Visual History of 1100 Characters"
English, Japanese | 2009 | pages: 362 | ISBN: 0887277365 | PDF (scan) | 34,8 mb
The Key to Kanji: A Visual History of 1100 Characters is a one-of-a-kind reference for learners at any level! Based in etymological research, this detailed guide takes away the difficulty of learning these Japanese characters. Each of eleven hundred essential kanji receives a fully illustrated entry with a brief English summary explaining the evolution of its written form and meaning from ancient to modern times. Each kanji is also given on- and kun- pronunciations, a section header in a traditional kanji dictionary, a clear stroke order illustration, and sample words that are useful for learners. The unusual breadth and depth of information in The Key to Kanji meets the needs of students and teachers in university, high school, and heritage language school programs, as well as independently studying adult learners.
My Link