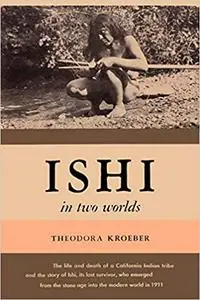 Theodora Kroeber, "Ishi in Two Worlds A Biography of the Last Wild Indian in North America"
English | 2011 | ISBN: 0923891013 | 308 pages | PDF | 45.14 MB
The life story of Ishi, the Yahi Indian, lone survivor of a doomed tribe, is unique in the annals of North American anthropology. It is also a tragic and absorbing drama that forms part of our own heritage of the land. Ishi stumbled into the twentieth century on the morning of August 29, 1911, when, desperate with hunger and in terror of the white murderers of his family, he was found in the corral of a slaughter house near Oroville, California. He had wandered in exhaustion from his native hills down to this valley town in search of food. Promptly labeled a wild man by the townspeople, and carried off for safe-keeping to the local jail, he was finally identified as an Indian by an anthropologist from the University. Ishi was brought to San Francisco by Professor T. T. Waterman and lived there the rest of his life under the care and protection of the staff of the University of California's Museum of Anthropology. He was about fifty years of age when discovered, and ultimately was given the name Ishi - his own Yahi word for man - by professor Alfred Louis Kroeber. The first part of the book is a reconstructed life of Ishi in the world he was born into, that same world in which his people lived for centuries before the white man came to dispossess the Indian. The years of Ishi's childhood and most of his manhood were the fear-ridden times of the Yahi's hopeless struggle for existence. Ishi's second world endured for a mere five years, but it was a happier world for him than his first. He lived content with his good friends in the Museum and in continual wonderment at the white man's ways. We are given a full account of those years: Ishi's daily activities, his pastimes and pleasures. The story this book tells is an unusual and engrossing one and the manner of its telling will surely put it in the forefront of our literature about the American Indian. Ishi was, to one of his white friends, the most remarkable personality of his century. All this and more Mrs. Kroeber has vividly imparted to the reader.