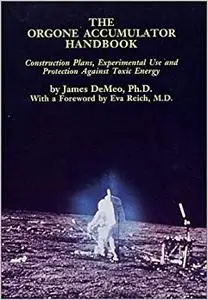 James DeMeo, Eva Reich, "The Orgone Accumulator Handbook: Construction Plans Experimental Use and Protection Against Toxic Energy"
2007 | pages: 175 | ISBN: 0962185507 | PDF | 21,6 mb
A concise handbook describing the original discovery of the orgone energy by Dr. Wilhelm Reich, as well as methods for constructing and safely using orgone energy devices, including the author's own considerable experience on the matter. With a Foreword by Dr. Eva Reich, the daughter of Wilhelm Reich, and an Appendix by two German physicians, from their own university thesis, a double-blind and controlled experiment validating the physiological effects of the orgone accumulator. Includes many photos and illustrations, including a cover photo of an astronaut walking on the moon, with a clearly-visible blue-glowing orgone energy field. This is a 2007 Revised Edition with a new Appendix containing additional experimental details over prior printings, and a revised Bibliography and Resources section. A 'must-have' book for the serious researcher, or anyone seeking clarity and facts about Wilhelm Reich, or substantive applications of 'subtle energy', which DeMeo shows, is 'not so subtle' if you know what to look for.
My Link