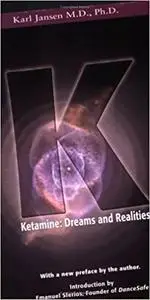 Karl Jansen, "Ketamine: Dreams and Realities"
English | ISBN: 0966001974 | 2004 | 355 pages | PDF | 1153 KB
"Karl Jansen's book Ketamine, Dreams, and Realities is a goldmine of information on this fascinating substance that combines in a unique way the properties of an anesthetic and a psychedelic. It is clearly written, well researched and documented, and presents a balanced and objective view point. The author's broad perspective that covers all the aspects of Ketamine from pharmacology to its use in raves makes this book interesting for clinicians and researchers, as well as the general public."- Stan Grof, M.D., author of Psychology of the Future: Lessons From Modern Consciousness Research; LSD Psychotherapy "Indispensable reading for those with any interest in ketamine. Entertaining, thought-provoking, and thorough." - Rick Strassman, M.D., author of DMT: The Spirit Molecule: A Doctor's Revolutionary Research into the Biology of Near-Death and Mystical Experiences "It is an excellent book… a well done comprehensive review of the entire history of ketamine." - Evgeny Krupitsky, M.D., Ph.D. Pioneer researcher into the use of ketamine-assisted psychotherapy in the treatment of alcoholism and heroin addiction.
Read more