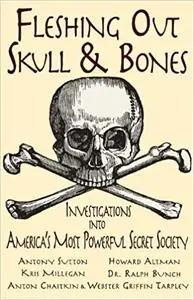 Kris Millegan, "Fleshing Out Skull & Bones: Investigations into America's Most Powerful Secret Society"
English | ISBN: 0972020721 | 2003 | 720 pages | EPUB | 49 MB
This chronicle of espionage, drug smuggling, and elitism in Yale University's Skull & Bones society offers rare glimpses into this secret world with previously unpublished documents, photographs, and articles that delve into issues such as racism, financial ties to the Nazi party, and illegal corporate dealings. Contributors include Antony Sutton, author of America's Secret Establishment; Dr. Ralph Bunch, professor emeritus of political science at Portland State University; Webster Griffin Tarpley and Anton Chaitkin, authors and historians; and Howard Altman, editor of the Philadelphia City Paper. A complete list of known members, including George Bush and George W. Bush, and reprints of rare magazine articles on the Order of Skull and Bones are included.