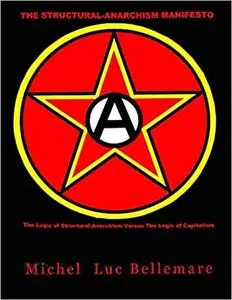 Michel Luc Bellemare, "The Structural-Anarchism Manifesto: (The Logic of Structural-Anarchism Versus The Logic of Capitalism)"
English | 2016 | ISBN: 0978115139, 0978115198 | 105 pages | EPUB | 0.241 MB
This book outlines a new form of anarchism, i.e., structural-anarchism, which advocates for a series of micro-revolutions, designed to install an anarchist federation/patchwork of municipalities, cooperatives, and autonomous-collectives, devoid of capitalism and devoid of any federal state-apparatus. Specifically, structural-anarchism is a form of anarchist-communism. It is communism from below, rather than, the Marxist notion of communism from above, i.e., authoritarian-communism. Furthermore, this book explores the complications and the complexities of the basic fact that we are increasingly living within the confines of a disciplinary surveillance society, where privacy is really based on an individual's ability to expose the surveillance mechanisms monitoring his or her private life. The assumption is that surveillance and discipline are now total and that most surveillance and disciplinary mechanisms never attain the light of public knowledge and scrutiny. As a society, western democracies have moved beyond democracy into a new socio-economic formation, the framework of the soft-totalitarian-state, i.e., bourgeois-totalitarianism.