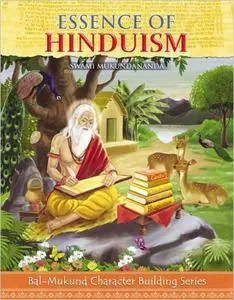 Essence of Hinduism by Swami Mukundananda
English | March 15, 2013 | ISBN: 0982667582 | EPUB | 220 pages | 19.5 MB
People from time immemorial have yearned to understand the rarest of rare secrets of divine knowledge housed in the spiritual land of India. People have travelled to this holy land in search of resplendent knowledge which contains the key for bringing divine transformation in our lives and so there is an inherent curiosity for understanding the concepts of Hinduism through scriptures. However without proper guidance, such endeavours to fathom secrets of Hinduism, even with best intentions, do not meet with success. People get stumped with how to access the knowledge, comprehend its wide-spectrum of concepts and utilize them meaningfully in their lives. That is why Hinduism is an enigma for most westerners. Their clichéd understandings of Hinduism as a way of life, etc. cannot fathom the precious treasure of gems in its repository. Interestingly, Hinduism is not mentioned by that name anywhere in the Vedic scriptures. The word "Hindu" was first coined by the Arabs to refer to the people who lived on the other side of the river Indus. The Vedas which are the eternal knowledge of God, in contrast, have a very different and majestic perspective on the nomenclature of the religion that they teach. Thee name of the religion described in them is called Sanātan Dharm, or "Eternal Religion." It is the path to God-realization, based on scientific, non-sectarian, and eternal principles.
Swami Mukundananda has explained this ancient esoteric knowledge with rigorous scientific logic, in the modern context. He uses a simple-yet-scientific approach to make this enormous knowledge comprehensible to both youth and westerners, at the same time each subject is treated with philosophical depth for the satisfaction of the more learned and erudite readers.