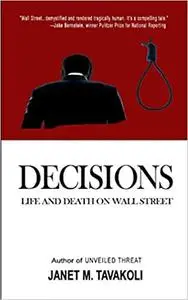 Janet M. Tavakoli, "Decisions: Life and Death on Wall Street"
English | ISBN: 0985159073 | 2015 | 103 pages | AZW3 | 0,2 MB
A financial insider illuminates what led to the collapse of 2008, and delves into the connection between Wall Street and Washington. From hidden information to false names to suicides, this fascinating read offers a clear, precise account of the state of the economic world.
Janet Tavakoli's Wall Street exposé of decisions that changed financiers' lives, drove some to suicide, and reshaped the landscape of global finance.
What Would You Be Willing to Do for Money and Power?
In New York, the Federal Reserve Bank hides damaging information about too-big-to-fail banks from the public eye. A prominent bank CEO seems on the verge of a nervous breakdown.
In Washington D.C., a former Wall Street regulator checks into a hotel using the name of a hedge fund manager for an illicit meeting with a prostitute. In a D.C. suburb, the CFO of a beleaguered mortgage giant chooses a drastic personal end to "relentless pressure".
In a picturesque suburb of Zug, Switzerland, the CFO of a major insurance company decides to end his life. In London, a financier kills himself in a way he once said he never would.
In her new memoir, Janet Tavakoli shines a bright light on the money-driven culture of Wall Street and Washington, and the life and death consequences of our decisions that put profit above all.