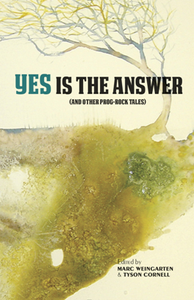 Yes Is The Answer : (And Other Prog-Rock Tales)
by Marc Weingarten, Tyson Cornell
English | 2013 | ISBN: 0985490209 | 288 Pages | ePUB | 4.08 MB
Progressive rock is maligned and misunderstood. Critics hate it, hipsters scoff at it. Yes Is The Answer is a pointed rebuke to the prog-haters, the first literary anthology devoted to the sub genre. Featuring acclaimed novelists, Rick Moody, Wesley Stace, Seth Greenland, Charles Bock, and Joe Meno, as well as musicians Matthew Sweet, Nathan Larson, and Peter Case, Yes Is The Answer is the first book that dares to thoughtfully reclaim prog-rock as a subject worthy of serious consideration. So take a Topographic Journey into a 21st Century Schizoid land of Prog-Lit!
If you want to support my blog, then you can buy a premium account through any of my files (i.e. on the download page of my book). In this case, I get a percent of sale and can continue to delight you with new books!