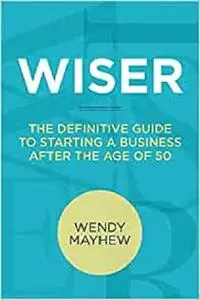 WISER: The Definitive Guide to Starting a Business after the Age of 50 by Wendy Mayhew
English | ISBN: 0988100010 | 200 pages | EPUB | March 12, 2020 | 2.47 Mb
Ready for midlife excellence? Cut out the crisis and discover the essential resource for creating booming enterprises.
Does your looming retirement leave you wondering what's next? Has this newest stage of life been a big letdown? Chomping at the bit for something to keep you busy? With over forty years of expertise in the field, Wendy Mayhew has already built her own multi-million-dollar business and written the definitive textbook on entrepreneurship. And now she's here to share her hard-won secrets of the trade so you can avoid falling into the red while finding new fulfillment.
WISER: The Definitive Guide to Starting a Business After the Age of 50 is an all-encompassing exploration of the unique challenges and rewards surrounding later-years ventures. Through her seasoned guidance (and twenty-nine inspirational accompanying audio interviews), Mayhew provides all the tools and information needed to join this fastest-growing group of budding entrepreneurs. And by following her easy-to-read manual, you'll soon be turning your lifetime of wisdom into the most gratifying decision for your future.
In WISER, you'll discover:
The ways stepping outside your comfort zone can take you straight into the strongest payoffs
How to build confidence for networking, so you always have the best contacts in your back pocket
Strategies to get the most out of a coach, mentor, or advisor and turn their knowledge into income
Methods for paving well-polished golden years and ensuring everything survives after you walk away
Ownership alternatives, invaluable expert perspectives for every chapter, and much, much more!
WISER: The Definitive Guide to Starting a Business After the Age of 50 is your fundamental handbook for entering the field of the new wave of school-of-life entrepreneurs. If you like friendly but factual inspiration, direct but digestible advice, and walkthroughs for each step of the process, then you'll love Wendy Mayhew's well-versed reference.
Buy WISER to give direction to your masterwork today!