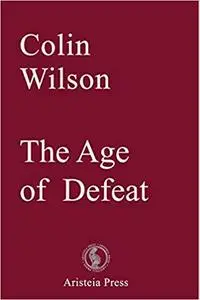 Colin Wilson, Samantha Devin, Thomas F. Bertonneau, "The Age of Defeat"
English | 2018 | ISBN: 0993323073 | 243 pages | EPUB | 0.22 MB
In The Age of Defeat, the third volume of the Outsider Cycle, Colin Wilson introduces his New Existentialism as the basis for the revolution in thought that we need to bring about; a revolt against insignificance and ordinariness. The New Existentialism is a practical and strong-willed philosophy that will renew the concept of Man as hero. It emphasises the extraordinary in us.The Age of Defeat examines the loss of the hero in Western culture and the implications of that loss for humanity. When it was written in the middle of the 20th century, it was the idea of the hero that was endangered. Today it is Man, his identity and his masculinity, who is verging on extinction. The concept of Man is one of the most ambiguous and puzzling in our culture. It might be a good moment to remember what to be a Man used to imply.