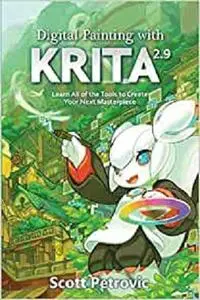 Digital Painting with KRITA 2.9: Learn All of the Tools to Create Your Next Masterpiece by Scott L Petrovic
English | October 22, 2015 | ISBN: 0996851704 | 232 pages | AZW3 | 9.55 Mb
Krita is a free painting tool designed for concept artists, illustrators, matte and texture artists, and the VFX industry. It has been in development for over 10 years and has had an explosion in growth recently. It offers many common and innovative features to help the amateur and professional alike.
Discover how assistants can speed up your creative process.
Understand how to use the powerful brush engines.
Master the user interface.
See how to select and transform your artwork to fix common mistakes.
Learn more about managing colors in your image.
Countless tips and shortcuts that will speed up your work flow.
Numerous illustrations to help explain concepts.
Contains the most up-to-date instructions for version 2.9.7.