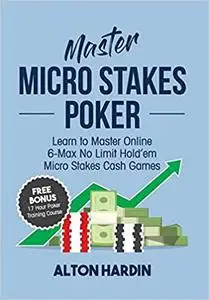 Alton Hardin, "Master Micro Stakes Poker: Learn to Master 6-Max No Limit Hold'em Micro Stakes Cash Games"
English | ISBN: 0998294519 | 2017 | 414 pages | MOBI | 29 MB
Learn to Master 6-Max No Limit Hold'em Micro Stakes Cash Games
Are you new to poker or a struggling poker player? Do you want to be a profitable poker player? Do you want to learn how to master the micro stakes? If so, this book is for you. If you're a beginning, losing, break-even, or slightly winning micro stakes cash game player, this book was written for you. This book will teach you everything you need to know to master 6-Max No Limit Hold'em micro stakes cash games and turn nickels, dimes and quarters into hundreds of dollars of profit.
Become a Master of Micro Stakes Online Poker
In this book you'll learn everything you need to know to crush online micro stakes poker. I'll teach you time-tested strategies for beating the micro stakes through a tight-aggressive approach to beating these games. My goal with this book is to teach you everything that I've learned throughout the years to help turn you into a solid, winning micro stakes poker player.
What You'll Get out of This Book
This book will teach you to become a solid, winning player, not only at the micro stakes but also at the live low stakes. More importantly, it'll teach you to become a thinking poker player. The common theme of this book is to help you build a solid foundation for long-term poker success. I'll do my best to impart all of the fundamental poker strategies and tactics you'll need to know to master the micro stakes. We'll focus on learning a tight, aggressive approach to the game by using a time-tested, proven strategy that works.
Over 140 Carefully Devised Practice & Example Poker Hand Scenarios
Free Enrollment into 17.5-Hour Crush Micro Stakes Poker Training Course at MicroGrinder Poker School
Contents & Overview
We'll start off discussing why people lose at poker, then progress to essential topics where we cover concepts such as the power of position, reasons to bet, understanding equity, and other important concepts. From there we'll jump to the next section, where we talk about our basic game plan and study strategies for beating the micro stakes. After that we'll introduce HUD stats and basic player types. From there, we'll move onto what I consider the meat and potatoes of the book, which are the last 3 sections of the book, where we discuss, pre-flop strategies, essential poker math, and post-flop strategies for mastering the micro stakes.
Learn Why People Lose at Poker
Master Fundamental Poker Concepts Necessary to Crush the Micro Stakes
Learn the Importance of Aggressive Poker, Position, Equity, Expected Value and Much More
Understand Essential Poker HUD Stats and Player Types That'll Allow You to Outplay Your Opponents
Master Pre-Flop Strategies Necessary to Beat the Micro Stakes
Learn the Fundamentals of Raising First in, 3-Betting, Cold-Calling, Set-Mining, Isolation Raising and Much More
Master Essential Poker Math All Poker Player Need to Know
Understand Post-Flop Fundamentals That'll Allow You to Win More Pots
Learn the Secrets to Profitable Post-Flop Play and Continuation Betting
Master Post-Flop Play as the Pre-Flop Aggressor and Pre-Flop Caller
Learn to Properly Play Limped, 3-Bet and Blind Defense Pots Post-Flop
And Much More
What Are You Waiting For?
Purchase this book today to start improving your poker game! Once you complete this book, you'll be a fierce adversary and feared opponent at the poker table that'll easily crush micro stakes poker games. You'll not only win a lot more money, but you'll also be a much happier poker player!