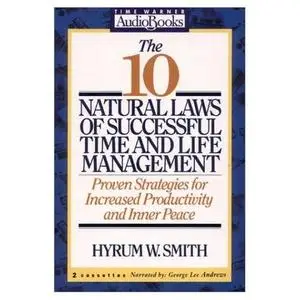 Hyrum W. Smith
«10 Natural Laws of Successful Time and Life Management [ABRIDGED] AUDIO BOOK»
Warner Business | ISBN 978-1570420047 | Abridged edition (January 1, 1994) | mp3 | 64 Kbps | 40.7 MB

Book Description
This in an exceptional audio production of the author's 1993 book on how to get your time and life organized around what matters to you. A lot of the advice is technical–things like goal setting, using a day planner, and making adjustments based on results–but his illustrations are so well crafted that it flows more like a novel than a self-help book. The meat of the audio is in the author's marvelous insights on how to understand belief systems and personal rules, and habits. He emphasizes learning from one's mistakes and staying flexible. Read by George Lee Andrews with gentle intelligence, humility, and moral confidence, this is a must-hear audio for anyone wanting a more integrated and effective life. T.W. © AudioFile 2001, Portland, Maine– Copyright © AudioFile, Portland, Maine
Strongly influenced by Benjamin Franklin, Smith, CEO of a Utah consulting company, offers insightful pronouncements on America's time fragmentation. "Life is getting more and more hectic. The daily treadmill is accelerating, and we have to run faster and faster just to stay in one place." His recommendations for regaining control of time, events and hence life are intriguing, as are his suggestions on goal setting, planning and negative behavior traits. Yet Smith's sharply focused managerial constructs become muddled with material on "life management," aimed at achieving "inner peace–the transcendant feeling of fulfillment and well-being." And his commercial endorsements of his company's seminars and products are irksome . Author tour.
Copyright 1993 Reed Business Information, Inc
About Author
Smith is CEO of Franklin Quest, a company that conducts time-management seminars for corporations, organizations, and government agencies, reaching as many as 20,000 persons per month. It also sells day-planner
scheduling books as an integral part of the time-management system it touts. This highly successful company was founded by Smith a little more than 10 years ago and was modeled on the self-improvement system outlined in Benjamin Franklin's autobiography. Smith argues that there is much more to managing time than getting things done. He preaches that only by understanding one's own value system can one decide what matters most, set priorities, and accomplish one's goals. The result is not only a better-organized life but a more fulfilling one. By focusing on time, Smith has provided a self-improvement book that almost everyone can use–and benefit from.
David Rouse