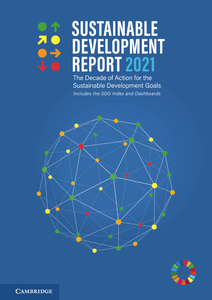 SUSTAINABLE DEVELOPMENT REPORT 2021
by JEFFREY D. SACHS
English | 2021 | ISBN: 1009098918 | 518 pages | PDF | 55.28 MB
The Sustainable Development Report 2021 features the SDG Index and Dashboards, the first and widely used tool to assess country performance on the UN Agenda 2030 and the Sustainable Development Goals. The report analyses and outlines what needs to happen for the Decade of Action and Delivery of the SDGs. In order to build back better following the Covid-19 pandemic, especially low-income countries will need increased fiscal space. The report frames the implementation of the SDGs in terms of six broad transformations. The authors examine country performance on the SDGs for 193 countries using a wide array of indicators, and calculate future trajectories, presenting a number of best practices to achieve the historic Agenda 2030. The views expressed in this report do not reflect the views of any organizations, agency or programme of the United Nations. This title is available as Open Access on Cambridge Core.