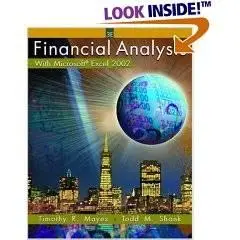 Financial Analysis with Microsoft Excel 2002
South-Western College Pub | ISBN: 0324178247 | 3rd Edition | PDF | English | 432 pages | 5.5 MB
FAME, 3rd Edition, is designed to teach learners to use Microsoft and uses Excel 2002 to build spreadsheets to solve financial problems. It starts with the basics in Chapter 1 and quickly moves into more advanced features of Excel. The book covers basic financial statements, ratio analysis, forecasting, time value of money, capital budgeting, and risk and diversification. Many learners will use this book and learn very valuable and highly marketable, skills.
RS link (no password required):
DOWNLOAD
needed points;
NO MIRRORS and your downloading this small file without using premium account is a great encouragement for my following posting;
if you like this book, suggest buying it!