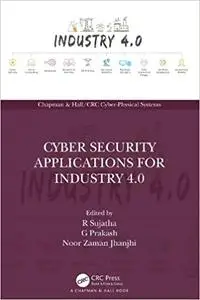 Cyber Security Applications for Industry 4.0
by Edited by R Sujatha
English | 2022 | ISBN: 1032066202 | 258 pages | True PDF | 13.44 MB
Cyber Security Applications for Industry 4.0 (CSAI 4.0) provides integrated features of various disciplines in Computer Science, Mechanical, Electrical, and Electronics Engineering which are defined to be Smart systems. It is paramount that Cyber-Physical Systems (CPS) provide accurate, real-time monitoring and control for smart applications and services. With better access to information from real-time manufacturing systems in industrial sectors, the CPS aim to increase the overall equipment effectiveness, reduce costs, and improve efficiency. Industry 4.0 technologies are already enabling numerous applications in a variety of industries. Nonetheless, legacy systems and inherent vulnerabilities in an organization's technology, including limited security mechanisms and logs, make the move to smart systems particularly challenging.
Features:
Proposes a conceptual framework for Industry 4.0-based Cyber Security Applications concerning the implementation aspect
Creates new business models for Industrialists on Control Systems and provides productive workforce transformation
Outlines the potential development and organization of Data Protection based on strategies of cybersecurity features and planning to work in the new area of Industry 4.0
Addresses the protection of plants from the frost and insects, automatic hydroponic irrigation techniques, smart industrial farming and crop management in agriculture relating to data security initiatives
The book is primarily aimed at industry professionals, academicians, and researchers for a better understanding of the secure data transition between the Industry 4.0 enabled connected systems and their limitations