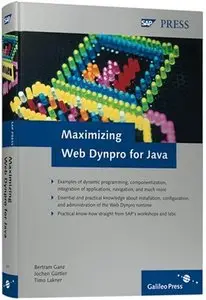 B. Ganz, J. GÃ1/4rtler, T. Lakner, "Maximizing Web Dynpro for Java"
English | 2006 | ISBN: 1592290779 | 497 pages | PDF | 78.4 MB
This book has it all—everything you need to know in order to get the very most from your Web Dynpro applications—straight from the developers at SAP.
Based on interesting (and surprising) sample applications, such as GameStation, Google Search, and MusicBox, this unique reference helps you easily memorize the vast array of Web Dynpro for Java capabilities in an engaging and entertaining manner. You will learn about the dynamic creation of UI components and how to access web services and get details on the integration of Web Dynpro applications into SAP NetWeaver Portal: the componentization of applications, navigation options between different Web Dynpro applications, display techniques, and much more. From the interaction with the Java Developer Infrastructure (JDI), to the use of Web Dynpro components, to the integration into SAP NetWeaver Portal and the use of its services—this unique book delivers it all.
An entire chapter is devoted to the installation, configuration, and administration of the Web Dynpro runtime. In addition, this comprehensive book provides you with many tips and tricks to increase the speed, security, and structure of your Web Dynpro applications, as well as key insights on troubleshooting and performance optimization.
Highlights include:
Web Dynpro Architecture Concepts
Dynamic Creation of UIs and Accessing of Web Services
Web Dynpro Componentization
Integration into SAP NetWeaver Portal
Object-Based Navigation
Generic Development Components
Installation, Configuration, and Administration of the Web Dynpro Runtime