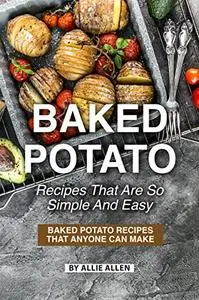 Baked Potato Recipes That Are So Simple and Easy: Baked Potato Recipes That Anyone Can Make by Allie Allen
2019 | ISBN: 1087163773 | ASIN: B07VX4HRZH | English | 64 pages | EPUB | 0.3 MB
Do you think that potatoes can accompany each and every meal? It is time to say bye to fried and other unhealthy options. Make space for a huge variety of tasty and healthy recipes with potatoes. With the Baked Potato Recipes, you will be able to prepare the best dishes to amaze your family. Day by day, you can enjoy the unique taste with a simple and cheap ingredient such as the potato.
Everyone loves potatoes! But, you are not aware of the many possibilities and new tastes that you will discover. Bite by bite, you will fall in love with the first recipe that you make. Soon, you will want to prepare each one of this cookbook and judge which is your favorite.
Hurry up and grab your copy at this moment!