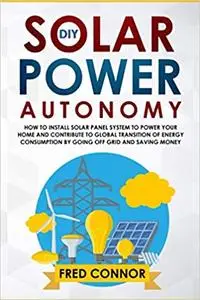 Fred Connor, "DIY Solar Power Autonomy: How to Install Solar Panel System to Power your Home and Contribute to Global Transition of Energy Consumption"
English | ISBN: 1095013637 | 2019 | 168 pages | AZW3 | 955 KB
Are you interested in going off the grid with solar power? Do you want to build an affordable solar power system without spending a lot of money and time? Tired of googling every question you have about setting up your own solar system? If the answer to any of these questions is yes. Then this book is for you!
A lot of the information and books available online are difficult to understand, impractical, and full of complicated technical details. This guide focuses on the essentials and uses vivid examples and an easy-to-understand language that even a beginner will enjoy reading.
With this comprehensive guide, you can save hundreds of dollars and install your solar panel system for Vans, RV's, Cars, Boats, and Homes.
In case you plan to hire a professional to do the installation for you then this book will empower you to ask the right questions and avoid unnecessary costs.
The book will guide you through the process of installing a system with illustrated step-by-step instructions. From determining the right size to wiring up the equipment and maintenance of the system.
You will learn:
Easy methods to estimate your power needs
Step by step calculations for estimating the size of your solar sysem
How to choose the right equipment and buying recommendation so that you could choose what suits the best for you
Precalculated solar power system templates that you can use to install on vehicles
The book contains examples of calculations that will help you to understand how to do your own calculations for a system
How to set up the system, and maximize energy production
More than 10 clear and practical diagrams for each step of building a solar power system
A detailed explanation of how to connect each solar component in the system
Comparison of solar charge controllers
Buying recommendations for solar power equipment (solar panels, inverter, solar charge controller, and more)
How to do proper maintenance of the solar power system and batteries
Ways to prevent short circuits and fire hazards
Installation of solar panels
And much more
I promise this book will be worth your time, or you will get your money back.
You have nothing to lose!
☆☆☆Special offer - buy the paperback version of the book and get the ebook for free☆☆☆
Take the first step into your solar adventure. Scroll up and grab your copy today!