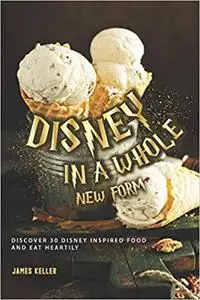 James Keller, "Disney in a whole New Form: Discover 30 Disney Inspired Food and Eat Heartily"
English | ISBN: 1095273353 | 2019 | 120 pages | AZW3 | 3 MB
Classic Disney movies are pretty unforgettable. It is no wonder that years later after people first saw them, they still remember major and minor details about the movies. No doubt, it has shaped the perspective people have about things. But you know what else it has shaped? Food! That is correct, and you deserve to know that you can incorporate your love for these movies with love for food.
This cookbook has gathered 30 recipes that were inspired by Disney movies; some of the recipes are exact copies of the ones in the movies, some are identical and tied to great occurrence in the movies, and others have been tweaked a little – creativity is everything, right?
Now, you can make visualize the "Eat Me" cookies that appeared in Alice in Wonderland and actually make a meal that is just like that. That is just one example; you will find others inside the page of this cookbook.
While you may not be able to bring everything in the movies to life, you can do that with the food. You can create fantasy food to satisfy your urge, and you should expect your family and friends to cheer for you.
Your ultimate fantasy is about to come to life. Hurry up and grab this book. It is the best way to begin the process and make it happen.