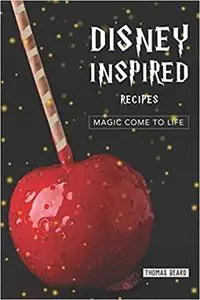 Thomas Beard, "Disney Inspired Recipes: Magic come to life"
English | ISBN: 1095273442 | 2019 | 108 pages | AZW3 | 3 MB
Think of the Disney movies you have watched. You remember The Lion King? You remember Cinderella? You remember how they were a great part of you? They are probably still a part of you. Those movies were pretty legendary, and there is only so much time can do to change that.
And then you remember the portrayal of food in those Disney movies, and you realize that they are even steps ahead of the legendary status. You remember "Cheese Souffl" from Beauty and the Beast? You remember Corn Dogs in Princess Diaries. Hmmm…Your taste buds are probably working overtime as the images of these food floods your mind. There is no shame in admitting that you wished to take a bite of these meals.
What would you do if you realize that you indeed can? Jump at the opportunity, right? Yes, you actually can, and this cookbook and a willingness to storm the kitchen are all you need.
With this cookbook, the magic of the Disneyworld is about to appear in physical form in your life. This cookbook will teach you how to make delectable meals like Belle's Breakfast Porridge, Snow White's Gooseberry Pie and a whole lot of others.
You would agree that there is only so much you can find out in the description. It can only show you what to expect. You should expect 30 amazing recipes that cover different courses.
Grab this cookbook and jump into this pool of enchantment right now. It does look like you do not need a fairy godmother afterall; you have already found her in this cookbook.