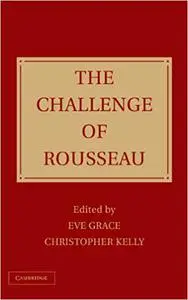 Eve Grace, Christopher Kelly, "The Challenge of Rousseau"
English | 2012 | ISBN: 1107018285 | PDF | pages: 344 | 2.5 mb
Written by prominent scholars of Jean-Jacques Rousseau's philosophy, this collection celebrates the 300th anniversary of Rousseau's birth and the 250th anniversary of the publication of Emile. The depth and systematic character of Rousseau's thought was recognized almost immediately by thinkers such as Kant and Hegel, yet debate continues over the degree to which Rousseau's legacy is the result of poetic, literary, or rhetorical genius, rather than of philosophic rigor or profundity. The authors focus on Rousseau's genuine yet undervalued stature as a philosopher. This collection includes essays that develop some of the complex problems Rousseau treated so radically and profoundly, as well as essays on the vigorous debates he engaged in with thoughtful contemporaries and predecessors.