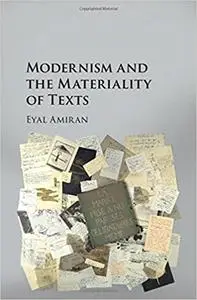 Eyal Amiran, "Modernism and the Materiality of Texts"
English | ISBN: 1107136075 | 2016 | 192 pages | PDF | 3 MB
Modernism and the Materiality of Texts argues that elements of modernist texts that are meaningless in themselves are motivated by their authors' psychic crises. Physical features of texts that interest modernist writers, such as sound patterns and anagrams, cannot be dissociated from abstraction or made a refuge from social crisis; instead, they reflect colonial and racial anxieties of the period. Rudyard Kipling's fear that he is indistinguishable from empire subjects, J. M. Barrie's object-relations theater of infantile separation, and Virginia Woolf's dismembered anagram self are performed by the physical text and produce a new understanding of textuality. In readings that also include diverse works by Gertrude Stein and Alice Toklas, P. G. Wodehouse and Conan Doyle, J. M. Barrie, George Herriman, and Sigmund Freud, this study produces a new reading of modernism's psychological text and of literary constructions of materiality in the period.