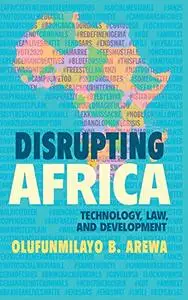 Disrupting Africa: Technology, Law, and Development by Olufunmilayo B. Arewa
2021 | ISBN: 1107156696, 1316610039 | English | 300 pages | PDF | 4 MB
In the digital era, many African countries sit at the crossroads of a potential future that will be shaped by digital-era technologies with existing laws and institutions constructed under conditions of colonial and post-colonial authoritarian rule. In Disrupting Africa, Olufunmilayo B. Arewa examines this intersection and shows how it encompasses existing and new zones of contestation based on ethnicity, religion, region, age, and other sources of division. Arewa highlights specific collisions between the old and the new, including in the 2020 #EndSARS protests in Nigeria, which involved young people engaging with varied digital era technologies who provoked a violent response from rulers threatened by the prospect of political change. In this groundbreaking work, Arewa demonstrates how lawmaking and legal processes during and after colonialism continue to frame contexts in which digital technologies are created, implemented, regulated, and used in Africa today.