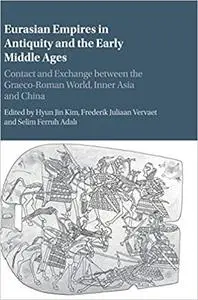 Hyun Jin Kim, "Eurasian Empires in Antiquity and the Early Middle Ages: Contact and Exchange between the Graeco-Roman World, Inner Asia"
English | ISBN: 110719041X | 2017 | 348 pages | PDF | 19 MB
The great empires of the vast Eurasian continent have captured the imagination of many. Awe-inspiring names such as ancient Rome, Han and Tang China, Persia, Assyria, the Huns, the Kushans and the Franks have been the subject of countless scholarly books and works of literature. However, very rarely, if at all, have these vast pre-industrial empires been studied holistically from a comparative, interdisciplinary and above all Eurasian perspective. This collection of studies examines the history, literature and archaeology of these empires and others thus far treated separately as a single inter-connected subject of inquiry. It highlights in particular the critical role of Inner Asian empires and peoples in facilitating contacts and exchange across the Eurasian continent in antiquity and the early Middle Ages.