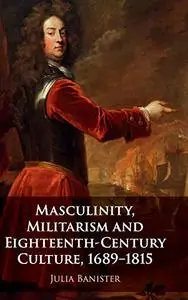 Masculinity, Militarism and Eighteenth-Century Culture, 1689-1815 by Julia Banister
2018 | ISBN: 1107195195, 131664667X | English | 264 pages | PDF | 36 MB
This book investigates the figure of the military man in the long eighteenth century in order to explore how ideas about militarism served as vehicles for conceptualizations of masculinity. Bringing together representations of military men and accounts of court martial proceedings, this book examines eighteenth-century arguments about masculinity and those that appealed to the 'naturally' sexed body and construed masculinity as social construction and performance. Julia Banister's discussion draws on a range of printed materials, including canonical literary and philosophical texts by David Hume, Adam Smith, Horace Walpole and Jane Austen, and texts relating to the naval trials of, amongst others, Admiral John Byng. By mapping eighteenth-century ideas about militarism, including professionalism and heroism, alongside broader cultural concerns with politeness, sensibility, the Gothic past and celebrity, Julia Banister reveals how ideas about masculinity and militarism were shaped by and within eighteenth-century culture.