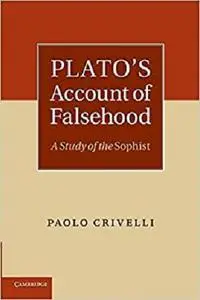 Plato's Account of Falsehood: A Study Of The Sophist by Cambridge University Press; Reprint edition
English | December 5, 2013 | ISBN: 1107699738 | 322 pages | MOBI | 1.62 Mb
Some philosophers argue that false speech and false belief are impossible. In the Sophist, Plato addresses this 'falsehood paradox', which purports to prove that one can neither say nor believe falsehoods (because to say or believe a falsehood is to say or believe something that is not, and is therefore not there to be said or believed). In this book Paolo Crivelli closely examines the whole dialogue and shows how Plato's brilliant solution to the paradox is radically different from those put forward by modern philosophers. He surveys and critically discusses the vast range of literature which has developed around the Sophist over the past fifty years, and provides original solutions to several problems that are so far unsolved. His book will be important for all who are interested in the Sophist and in ancient ontology and philosophy of language more generally.