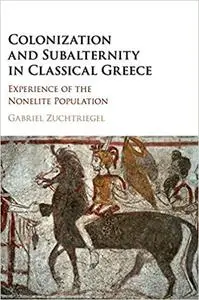 Gabriel Zuchtriegel, "Colonization and Subalternity in Classical Greece: Experience of the Nonelite Population"
English | ISBN: 1108419038 | 2017 | 282 pages | PDF | 44 MB
In this book, Gabriel Zuchtriegel explores and reconstructs the unwritten history of Classical Greece - the experience of nonelite colonial populations. Using postcolonial critical methods to analyze Greek settlements and their hinterlands of the fifth and fourth centuries BC, he reconstructs the social and economic structures in which exploitation, violence, and subjugation were implicit. He mines literary sources and inscriptions, as well as archaeological and data from excavations and field surveys, much of it published here for the first time, that offer new insights into the lives and status of nonelite populations in Greek colonies. Zuchtriegel demonstrates that Greece's colonial experience has far-reaching implications beyond the study of archaeology and ancient history. As reflected in foundational texts such as Plato's 'Laws' and Aristotle's 'Politics', the ideology that sustained Greek colonialism is still felt in many Western societies.