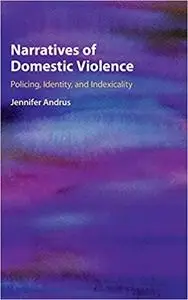 Jennifer Andrus, "Narratives of Domestic Violence: Policing, Identity, and Indexicality"
English | ISBN: 1108839525 | 2020 | 280 pages | PDF | 11 MB
Domestic violence is an intractable social problem that must be understood in order to be eradicated. Using theories of indexicality, identity, and narrative, Andrus presents data from interviews she conducted with victims and law enforcement, and analyses the narratives of their interactions and the identities that emerge. She gives insight into law enforcement views on violence, and prevalent misconceptions, in order to create resources to improve communication with victim/survivors. She also analyzes the ways in which identity emerges and is performed via narrative constructions of domestic violence and encounters between police and victim/survivors. By giving voice to the victims of domestic violence, this book provides powerful insights into the ways that ideology and commonplace misconceptions impact the social construction of domestic violence. It will be invaluable to students and researchers in discourse analysis, applied linguistics and forensic linguistics.