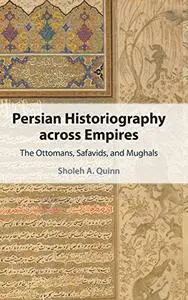 Persian Historiography across Empires: The Ottomans, Safavids, and Mughals by Sholeh A. Quinn
2021 | ISBN: 1108842216 | English | 250 pages | EPUB | 11 MB
Persian served as one of the primary languages of historical writing over the period of the early modern Islamic empires of the Ottomans, Safavids and Mughals. Historians writing under these empires read and cited each other's work, some moving from one empire to another, writing under different rival dynasties at various points in time. Emphasising the importance of looking beyond the confines of political boundaries in studying this phenomenon, Sholeh A. Quinn employs a variety of historiographical approaches to draw attention to the importance of placing these histories not only within their historical context, but also historiographical context. This comparative study of Persian historiography from the 16th-17th centuries presents in-depth case analyses alongside a wide array of primary sources written under the Ottomans, Safavids and Mughals to illustrate that Persian historiography during this era was part of an extensive universe of literary-historical writing.