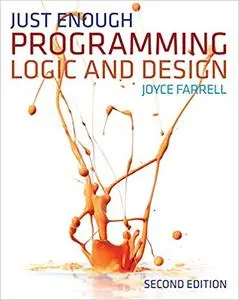 Just Enough Programming Logic and Design 2nd Edition
by Joyce Farrell
English | 2013 | ISBN: 1111825955 | 258 Pages | PDF | 18 MB
Find exactly what you need to master the fundamentals of programming logic with the concise JUST ENOUGH PROGRAMMING LOGIC AND DESIGN, 2E. This unique, language-independent introduction to programming logic provides seven chapters focused on key programming and logic content in a direct, efficient format that helps you progress through the subject matter quickly. Everyday examples and clear explanations in a streamlined presentation make this a perfect choice even if you have no prior programming experience. Twenty-five brief new videos from the author expand on and clarify topics, while new Debugging Exercises and a wealth of review and programming exercises in each chapter help you hone your skills. You can use this concise approach alone or as a companion book for success in any programming language course.