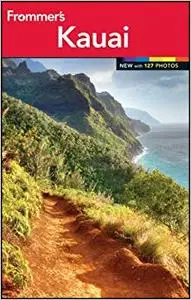 Jeanette Foster, "Frommer's Kauai"
English | 2012 | ISBN: 1118074696 | PDF | pages: 291 | 87.1 mb
- Meticulously researched by one of Hawaii's most noted journalists (and a long-time resident of the Big Island), this is hands-down the most reliable, up-to-date, and comprehensive guide to Kauai.
- Candid hotel reviews are based on a detailed personal inspection. You'll find lavish beachfront resorts, intimate rain-forest B&Bs, family-friendly condos, and much, much more.
- The best dining reviews in the business, whether you crave cutting-edge Asian-fusion cuisine or a hearty, affordable plate lunch.
- Opinionated write-ups. No bland descriptions and lukewarm recommendations. Our expert writers are passionate about their destinations–they tell it like it is in an engaging and helpful way.
- Tips for experiencing the spirit of aloha, and how to steer clear of anything that's overpriced, touristy, or inauthentic. Find out where to find secluded beaches, secret spots for snorkeling, the best outfitters to choose for everything from diving to deep-sea fishing, and where to find the top galleries and shops.
- Extensive tips for all types of trips and travelers: family-friendly accommodations and activities; tips on how to get married in the islands; recommendations for the best honeymoon resorts; and valuable advice on finding the best airfares and package deals. Learn how to surf, hike through Waimea Canyon, play a challenging round of golf, snorkel with sea turtles, or simply kick back with a mai tai to watch the sunset.